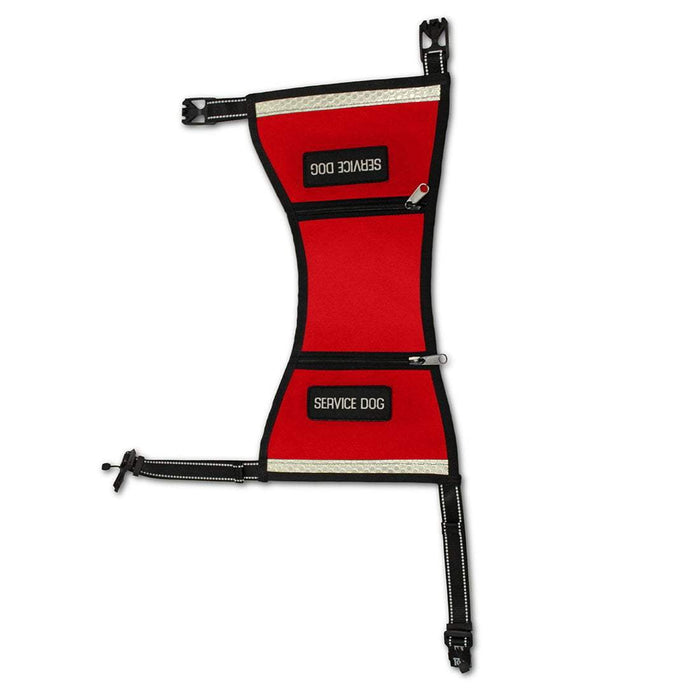 Pup IQ Advanced Cape Style Dog Vest with Smart Snap Clips
This Pup IQ Advanced cape style vest is a great addition to a working dog's gear. The Smart Snap magnetic buckles allow the easiest attach and release system out there (especially helpful for those with impaired mobility). 
In addition, Pup IQ has outfitted this new vest with state of the art Ultra reflective material to ensure visibility and overall safety. This cutting edge technology also glows in the dark!
This durable lightweight vest comes with pockets that are perfect for ID Cards. Vest comes with velcro (Patches not included)
Features:

Magnetic Smart Snap buckles make it super easy to apply & remove
Ultra Reflective Material also glows in the dark to ensure safety
Designed for lightweight comfort
Two layers of durable nylon
Zippered pockets can store supplies and identification
Front strap goes over the head, back strap snaps securely around the rib cage
Hand wash, drip dry
Size Information
All sizes are based on your dog's girth. To determine girth, Use a sewing tape or string to measure behind your dog's front legs to get their chest circumference. Measure around your dog's rib cage about an inch or two behind the front legs.
NOTE: If you have a really small dog, the Tiny vest can be altered to fit. Cut a strip out and sew it back together with a sewing machine. This will allow you to go down to a 9-inch girth.
The number and placement of patches and zipper pockets vary depending on the size of the vest. 
Tiny Service Dog Vest: 13-16 inches (Yorkshire Terrier, Silky Terrier, Papillon, Maltese, Toy Poodle, Miniature Chihuahua)
Extra Small Dog Service Vest: 16-23 inches (Large Chihuahua, Cavalier King Charles, Pomeranian, Shih-Tzu, Schnauzer, Dachshund)
Small Dog Service Vest: 23-29 inches (Beagle, Australia Shepherd, German Shorthair, Weimaraner)
Medium Dog Service Vest: 29-35 inches (American Staffordshire Terrier, Boxer, Golden Retriever, Dalmatian, Pit Bull)
Large Dog Service Vest: 35-39 inches (German Shephard, Labrador, Rottweiler, Doberman Pinscher, Sheepdog)
Extra Large Dog Service Vest: 39-45 inches (Saint Bernard, Great Dane, Bernese Mountain Dog, Mastiff, Irish Wolfhound)