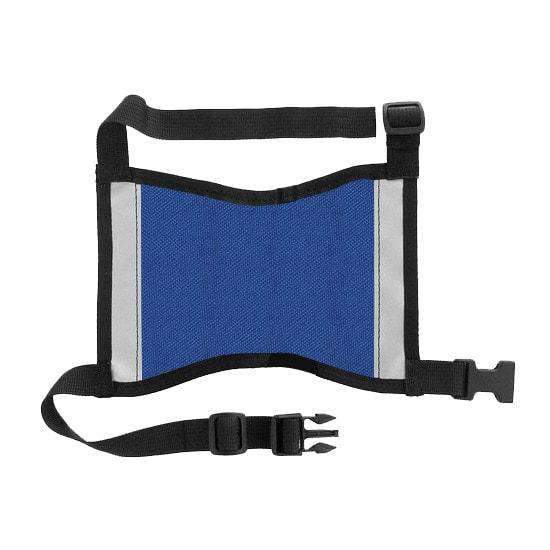 Pup IQ Cape Style Service Dog Vest
This cape style dog vest is high quality, durable, and resistant to wear and tear. This vest comes blank and can be used with any combination of patches to make a service, therapy, or working dog vest. Although a vest is not required by law, it can help in public along with
ID cards
. This vest comes in a variety of sizes and colors so you are sure to find the perfect fit.
Features:
Made in the USA

Can Be Used as a Service Dog Vest, Therapy Dog Vest or Working Dog Vest

Lightweight Design

2 Layers of Durable Nylon

Heavy Duty but Lightweight Side Release Buckles

Built-In Reflective Strip for Safety

Easy to Put On
High-Quality Workmanship
This working dog vest is made in the cape style, so that's lightweight and won't slow down your dog. Each vest is made in the USA from two layers of durable nylon with an added reflective strip for safety at night.
Need an easy place to store your dog's service dog essentials? This service vest comes with two zippered pockets, each with a rubber pull to make it extra easy on your fingers.
Easy to Put On
To put this vest on your working dog, slip the front strap over the dog's head and snap the back strap securely around their rib cage. The buckle snaps used on this service vest are very strong and durable while staying lightweight.
How Do I Pick the Right Size of Service Dog Vest?
Use a soft fabric measuring tape. Measure all the way around the rib cage, full circle. Just like a saddle fits a horse. Your dog must be standing. 

Dimensions of the Service Dog Vests:
Tiny*:

 13-16 inches (Yorkshire Terrier, Silky Terrier, Papillon, Maltese, Toy Poodle, Miniature Chihuahua)
*If you have a really small dog, the Tiny vest can be altered to fit. Cut a strip out and sew it back together with a sewing machine. This will allow you to go down to a 9-inch girth.
Extra Small:

 16-23 inches (Large Chihuahua, Cavalier King Charles, Pomeranian, ShihTzu, Schnauzer, Dachshund) 
Small: 23-29 inches (Beagle, Australian Shepherd, German Shorthair, Weimaraner)
Medium: 29-35 inches (American Staffordshire Terrier, Boxer, Golden Retriever, Dalmatian, Pit Bull)
Large:

 35-39 inches (German Shepherd, Labrador, Rottweiler, Doberman Pinscher, Sheepdog)
Extra Large: 39-45 inches (Saint Bernard, Great Dane, Bernese Mountain Dog, Mastiff, Irish Wolfhound)
Which Color of Service Dog Vest Should I Buy?
There is no rules or regulation regarding what color vest your dog should wear. Blue and red are usually the most popular colors for service dog vests.
Care Instructions:
These working dog vests are very easy to take care of. Simply hand wash and then hang to drip dry.
Service Dog Vest Guidelines
We are privileged to be able to provide the service dog supplies that are needed by our customers. However, we also are passionate about educating the public about service dogs and how they fit into the working dog parameters.
It is fraudulent to represent your dog as a service animal if it is not. You can learn more about how a dog becomes a service dog here.
We also have additional resources about service dogs, therapy dogs and other working dog breeds in our blog.
What's the Difference Between a Service Dog and a Therapy Dog?
What is a service dog?
According to the Americans with Disabilities Act, a service dog is any dog used as a guide dog or signal dog. They are individually trained to perform specific tasks related to their owner's disability. They are not a family pet and need to be treated differently while they are on duty. If you have a trained service dog, they must be allowed to come with you into any business.
This definition does not affect or limit the broader definition of "assistance animal" under the Fair Housing Act or the broader definition of "service animal" under the Air Carrier Access Act. Some State and local laws also define service animal more broadly than the ADA does. Information about such laws can be obtained from the State attorney general's office, or by visiting the ADA website.
Vests for Service Dogs
Why would I want a vest for my service dog if it's not required? The biggest reason we encourage owners of service animals to get identification like a vest is that it makes it easier to go about your daily business without having to constantly explain that your dog is a service animal.
Also, unlike therapy dogs, service dogs are not supposed to be touched or interacted with by anyone other than their owner when they are working. It can distract them from their task and lead to some serious consequences. Therefore, a vest can tell others around you that your service dog is working or on duty so that they can be left alone.
What is a therapy dog?
A therapy dog, on the other hand, is a dog that's sole purpose is to make others happy. They are usually trained to be well behaved and incredibly friendly, as they are often used at nursing homes, schools, hospitals, and local events for people to pet and love on. Studies have shown that petting an animal can reduce your stress levels and increase your happiness.
Vests for Therapy Dogs
Why, then, does a therapy dog need a vest? Some people can be a little uncomfortable around dogs, especially if they don't know that they are friendly. A therapy dog vest, especially with a patch that denotes their job, is a great way to encourage strangers to come up and pet your dog and to assure everyone in your surroundings that your dog is friendly and ready to mingle.
Vests are custom-made per order and require up to 4 business days for production time.