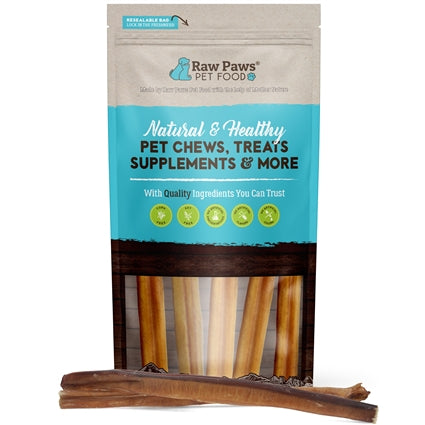 Raw Paws Pet Food - Bully Sticks
Description:
Single-ingredient: Bull Pizzle! No Preservatives, additives, fillers, flavors, or colors.
Supports oral health! The abrasive action of chewing naturally removes tartar and plaque build-up from teeth.
Chewing is both physically and mentally engaging. Helps your dog relieve boredom, stress, and anxiety.
Sourced from free-range cattle raised without antibiotics, steroids, or added hormones.
Length: 6/12 inches (approx) 
Thickness: Thin 0.4 inches (approx), Standard 

0.5 inches (approx), Jumbo 0.75 inches (approx)

Made with strict quality and safety standards and protocols.
Origin: Turkey.
Orders ship same day, nationwide from Indianapolis.