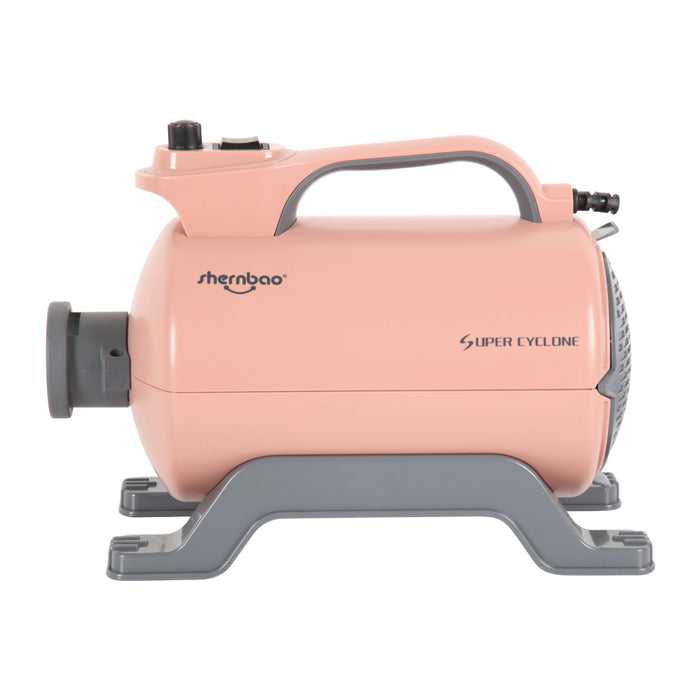 Super Cyclone Single Motor Dryer
The Super Cyclone from Shernbao gives you 30% more power than the Cyclone, but in the same convenient size! This single motor blaster features an upgraded motor with heating element to blast water and hair away with ease. The heating element aids in fluff drying and adding volume to the coat. Comes with a flexible hose and different nozzles to suit different coat types. The hose is easy to remove with the 'one-click' system. The filter is easy to remove, making daily maintenance simple. Don't let it's little size fool you, this dryer packs some serious power! Excellent as a back up machine for the busy salon, competition or start up groomers or pet owners who want professional results.
Small in size, Big in power!

Upgraded single motor.

Flexible hose and different nozzles '.

One click system' removable hose.

Easy to remove filter.

 

Come with three nozzles, a hose and a handle.
MAX POWER – 2600 W
HEAT POWER – 800 W
BLOW FORCE – 650 G
MAX SPEED – 500
MPM – 61,000 FPM
MAX AIRFLOW – 5 CBM – 180 CFM
TEMPERATURE RISE – 44 C – 111 F