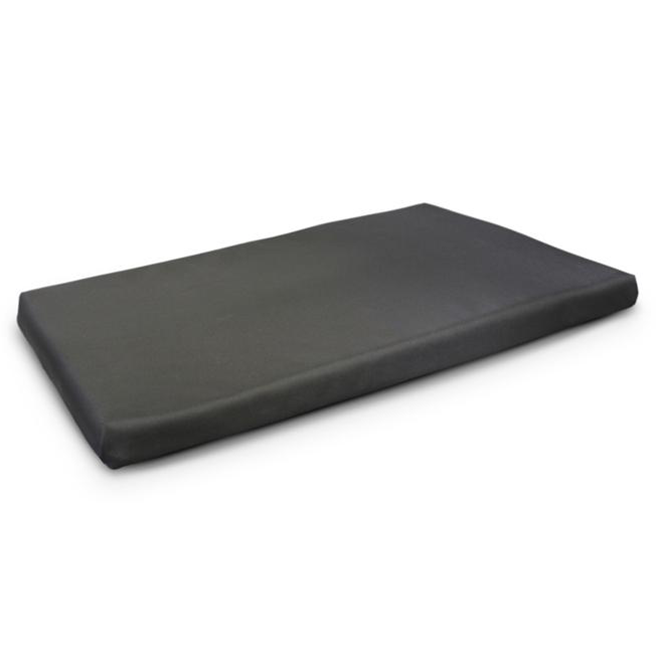 Tough Titan Orthopedic Crate Bed
No longer do dogs need to suffer silently in pain, just because they can be a little mischievous. The Tough Buddy Titan crate bed is simply the most durable crate pad ever made. The pinnacle of strength, the Tough Buddy Titan crate beds features 1680 denier rated Ballistic Nylon and True Cool Memory foam. It is sewn with the same Kevlar thread used to make bulletproof vests and is machine washable.
The use of Kevlar thread ensures maximum seam strength and we have replaced the zipper on the bottom with a tough Velcro enclosure. These gel-infused memory foam dog beds are designed to keep your dog cooler in the summer and warmer in the winter. Made in the USA by master craftsmen, this bed is built to provide the best comfort and support while standing up to mischievous chewers. 
Medium: 26" D x 40"L x 2" H
Large: 26" D x 48"L x 2" H
XLarge: 33" D x 50"L x 2" H
---
TITAN BALLISTIC FABRIC
WATER RESISTANT
HIDDEN DUAL ZIPPER
TITAN TOUGH GUARANTEE
Made in the USA, by dedicated masters of their craft, each BuddyRest bed is handmade with precision from start to finish. This process ensures you will receive a true work of art.
---
TITAN TOUGH GUARANTEE
Our Titan products come with a 30 day Titan tough to guarantee. This protects your investment in case the cover gets damaged. If your dog damages the bed, we will provide a one-time replacement. Please note there is a $20 shipping and handling fee to cover the cost of shipping the replacement bed.
Please note that nothing is indestructible and this bed does not claim to be! The root cause of most chewing is separation anxiety. This needs to be addressed in conjunction with a Tough Buddy Titan bed in order to reduce destructive behavior.
---
FEATURES
Utilizing high tech Ballistic Nylon performance fabrics and sewn with Kevlar, the Titan Beds are the toughest dog beds ever built.
CHEW RESISTANT
KEVLAR THREAD
NEVER-SLIP BOTTOM
GAUNTLET ZIPPER
Relieves arthritic pain
Stays clean
Reduces joint stiffness
Increases mobility
Doesn't break down or get dips
Chew resistant
Keeps pet at optimal temperature