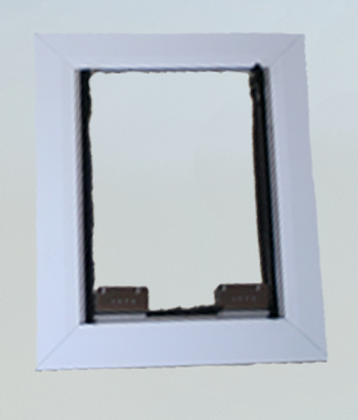 Hale Pet Door - Exterior Frame Only
If you order an exterior frame only, you will receive the frame used for doors, walls and double pane in glass models.  It will contain the door frame in the color of your choice as well as the flap, weather stripping, and magnets appropriate to the size of pet door ordered.   If you are ordering an exterior frame to sleeve into an existing Hale Pet Door brand door model interior frame, please call us to place your order.  The frame size will need to be adjusted slightly to allow it to sleeve into the interior frame which would make the unit a custom size.  This only applies when using with existing door models and does not apply to our wall models or to other uses for the exterior frame.
This item can be used in many different situations such as replacing a damaged exterior frame, adding a Hale brand aluminum frame to an already existing pet door from another brand, using two exterior frames to make a virtually flush installation, adding a pet door without a cover to a screened enclosure where a screen won't work, etc. Because this model can be used in so many different situations, we do not provide installation instructions specific to this product as they can vary greatly depending on the situation. An installation booklet with instructions for doors, walls, screens, etc. is enclosed with the order and can be referred to in most scenarios for installation.