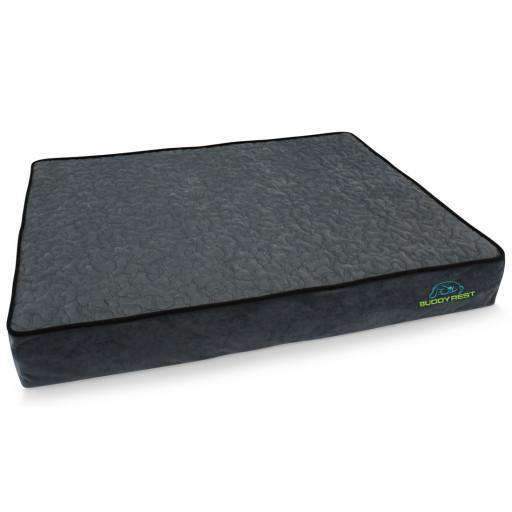 Juliet Orthopedic Dog Bed
It will be love at first sight with the Juliet dog bed that features state of the art technology combined with elegant styling. Utilizing our Advanced Orthopedic Hybrid Support System™, this bed combines cutting-edge True Cool memory foam that keeps pets comfortable and supported with the advanced LiftTex support technology. This cutting-edge technology combined with BuddyRest's award-winning craftsmanship these beds promote joint health for your pup and also helps older dogs get in and out of bed.
The innovative MOBILITY layer is what makes this bed different.
Although machine washable, our special BuddyRest Smart Suede Fabric™ ensures your bed is water-resistant, will stay clean and rarely need laundering. The beautifully ornate quilted bone top provides styling that matches the amazing technology of this advanced orthopedic dog bed.
---
ANTI-BACTERIAL
WATER RESISTANT
TEMP-NEUTRAL
STAY-CLEAN COVER
Made in the USA, by dedicated masters of their craft, each BuddyRest bed is handmade with precision from start to finish. This process ensures you will receive a true work of art.
---
FEATURES
Utilizing high tech BuddyRest Smart Suede Fabric™, it stays clean, doesn't smell and rarely needs to be washed. No longer will you have to constantly wash smelly dog beds covers!
This luxury gel pet bed provides blissful comfort and orthopedic support to improve joint health while providing maximum durability. In addition, this beautiful designer styling ensures this gel foam dog bed will accentuate the decor of any room.
STAY-CLEAN SUEDE 
KEVLAR THREAD
NEVER-SLIP BOTTOM
POCKETED ZIPPER
Relieves arthritic pain
Stays clean
Reduces joint stiffness
Increases mobility
Doesn't smell over time
Doesn't break down or get dips
Chew resistant
Prevents bacteria growth
Repels hair, stains, and odors
Water-resistant
Keeps pet at optimal temperature
---
---
10 YEAR WARRANTY
We stand behind all of our high-quality products. With every product we manufacture, we use the best processes and materials available. We do the little things to ensure a great product. We guarantee our products against defects in materials or workmanship for 10 years. Damage caused by an animal is not covered under warranty. Contact us at customerservice@buddyrest.com for any issues. Your business is important to us, so expect a prompt reply.