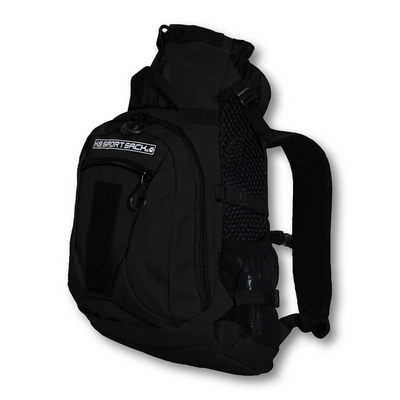 The Plus 2 is a backpack dog carrier with a multi-functional storage pack. The storage pack is great for bringing gear, treats, or other necessities along on your adventures. It also acts as a support for your dog's back, pulling your pup in snuggly against your back. Available in sizes S-L, its thicker shoulder straps and padded back panel allow for more weight and strenuous activities. The Plus 2 is our most complete carrier for small to medium sized dogs and fits dog owners small to large in build.
Features
Detachable storage bag (14"x9") Don't forget your gear!
Fully ventilated sides for maximum refreshing air flow
Padded back panel for increased comfort and cooling
Thicker, wider, pressure relieving shoulder straps
Mesh dual side pockets for increased ventilation
Ventilated cooling side panels
Adjustable dual side pockets
Sternum strap avalanche whistle clip
Newly added PLUS 2 features include:
Wide Base to accommodate your pet and its tail
Adjustable Side and Back Cinch Straps to ensure the best fit
Fur Flap (No more zipping your dog's hair in the bag)
Adjustable Collar Enclosure
 For Dogs Ranging 8-40lbs (4-18kgs)
Safety
All K9 Sport Sack carriers are specially developed under the close direction of animal professionals, veterinarians, dog trainers, and outdoor product engineers to be ergonomic, safe, and strong.