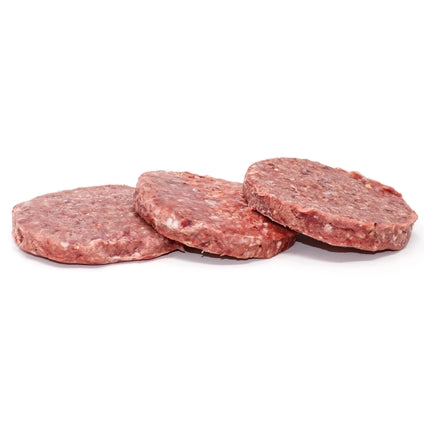 Raw Paws Pet Food - Raw Frozen Dog Food
Description

Many canned and kibble dog food brands claim to be the healthiest option for your beloved pet. Unfortunately, many pet food varieties contain harmful or unnecessary ingredients and preservatives to make them last longer on the shelf. But there is a healthier alternative, frozen dog food delivery!
Healthy, frozen pet food can last just as long in storage if kept frozen, and your dogs will love it. Frozen raw dog food is significantly less processed, which makes it the perfect option for getting your dog on a healthy but enjoyable diet. Dogs love our pre-blended formulas of 80% meat, 10% bone, and 10% organ, making raw feeding easy.
Chicken, Turkey & Green Beef Tripe Patties
Pork, Salmon, Beef, Duck, Vegetables Signature Blends
Turkey Breast Chunks
And more!
Click here for details and pricing!
Some Benefits of Frozen Dog Food:
Contains nutrition for your dog's physiological needs
An optimal diet consists of meat, organ, and bone, which our blends provide
When you use Raw Paws Pet Food for frozen dog food delivery, your dogs will get plenty of protein, calcium, and healthy fatty acids
Raw Paws frozen dog food lasts as long as or even longer than most canned dog food and kibble when stored correctly
Doesn't contain any colorings, flavorings, or preservatives
Frozen pet food allows your dog to thrive and maintain good health