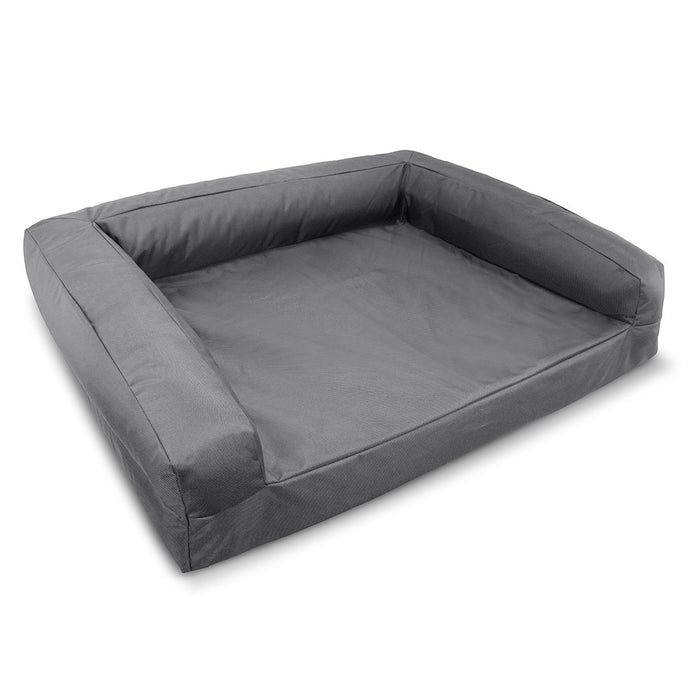 Titan Fortress Ballistic Bolster Bed
The Titan Fortress dog bed combines our award-winning technology and craftsmanship to ensure that this is the strongest chew tough couch bed ever created. The pinnacle of strength, the Tough Titan Fortress features 1680 denier rated Ballistic Nylon and True Cool Memory foam. It is sewn with the same Kevlar thread used to make bulletproof vests and is machine washable.
The Titan Fortress also features an overstuffed bolster pillow made of high-quality American cloud fluff. The Titan beds are the only dog beds that are chew tough and truly orthopedic.
These gel-infused memory foam dog beds are designed to keep your dog cooler in the summer and warmer in the winter.
TITAN TOUGH GUARANTEE
Our Titan products come with a 30 day Titan tough to guarantee. This protects your investment in case the cover gets damaged. If your dog damages the bed, we will provide a one-time replacement. Please note there is a $20 shipping and handling fee to cover the cost of shipping the replacement bed.
Please note that nothing is indestructible and this bed does not claim to be! The root cause of most chewing is separation anxiety. This needs to be addressed in conjunction with a Tough Buddy Titan bed in order to reduce destructive behavior.
FEATURES
Utilizing high tech Ballistic Nylon performance fabrics and sewn with Kevlar, the Titan Beds are the toughest dog beds ever built.
Medium: 24"D x 33" L x 9" H Internal 20" x 17"
Large: 30" D x 40" L x 9" H Internal 27" x 23"
X-Large: 32" D x 48" L x 10" H Internal 35" x 25"