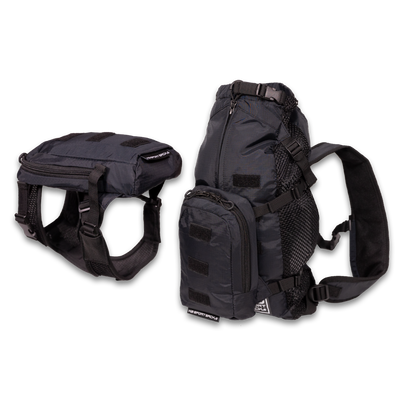 K9 Sport Sack® Walk- On with Harness & Storage
The Walk-On is a lightweight, packable backpack dog carrier, with a compatible harness and storage bag made for small to medium sized dogs. We've created an all new dog walking/hiking experience for those looking for ONE product that allows you to WALK your dog, STORE your gear, and CARRY your dog. We want to encourage a healthy and balanced lifestyle for all dogs. This product was created for dog owners who primarily walk their dog and also want the option to carry their dog if needed. The Walk-On is a short distance carrier and used for the end of walks or hikes, giving your dog a break while exercising or in case of an emergency situation. 
Walk-On features 3 unique products to be used as a set or individually: Harness, Storage bag, and Backpack Carrier
Features
Harness 
Made with a lightweight and padded mesh

3 Reinforced D-Ring connection points

Adjustable and durable webbing for a custom fit

Interfaces with the inside of the backpack to secure your dog when being carried

Outfitted with buckles to connect to the storage bag allowing your pet to carry its gear
Storage Bag 
Lightweight and durable ripstop nylon

Equipped with a D-Ring for different attachment options

Able to pack and store your backpack carrier when not in use

Fasten to your backpack to give your pet lumbar support

Buckle clips to the harness and let your dog carry its backpack and other gear on its back

Includes removable base to provide padding when worn by dog on the harness

3 hook & loop strips for patch personalization
Packable Backpack Carrier
Lightweight and durable ripstop nylon
SBS auto-locking zippers.
Sternum strap with avalanche whistle clip
Wide and lightly padded shoulder straps
Breathable mesh from top to bottom providing air ventilation
Removable padded dog base
3 hook & loop strips for patch personalization
For Dogs Ranging 4-30 lbs (2-13 kgs)
Safety
All K9 Sport Sack carriers are specially developed under the close direction of animal professionals, veterinarians, dog trainers, and outdoor product engineers to be ergonomic, safe, and strong.