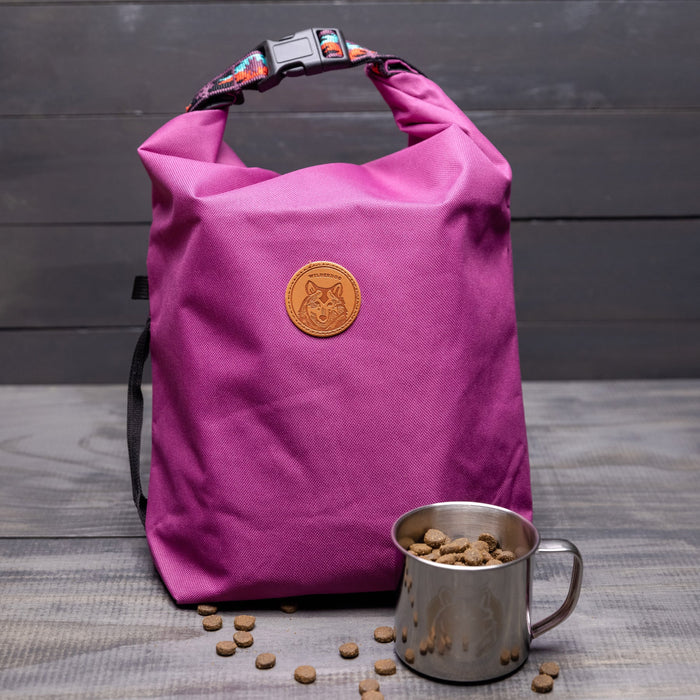 The perfect way to carry your dog's food with you on every trip! The best part? No more wasting plastic ziplock baggies. Fill up with kibble at home, roll down, clip together, and head out for the next adventure!
Wilderdog's portable kibble carrier also comes with a stainless steel mug  - holds about 1.25 cups of kibble - to portion out your pup's meals. With one handle on top and one on the side, the Doggie Bag is easy to carry. It even has an additional, external loop to clip your Backpacking Bowl to.
PRODUCT DETAILS
Ships with a stainless steel mug for kibble scooping

Measures approximately 12" x 18" when laid flat

Holds roughly 5 lbs of kibble

Heavy-duty, water resistant poly cotton outer

Food grade, non toxic materials

Weighs 7.6 oz

Backed by our lifetime warranty!
Wash on 'gentle' setting with low or no heat

Hang to dry

No chewing!
If your pup's kibble is especially greasy, or you plan on keeping the kibble inside the bag for an extended period of time, we advise storing the kibble in a Stasher Stand-Up Mega Bag inside the Doggie Bag. A large plastic baggie inside the doggie bag will prevent grease transference.