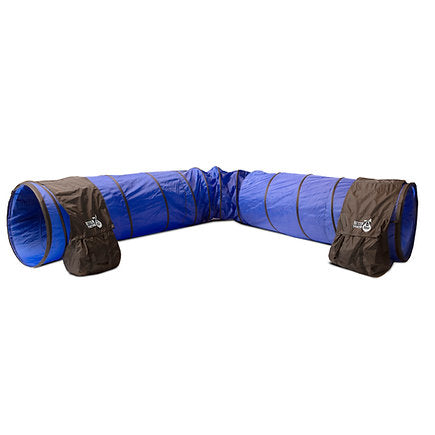 Better Sporting Dogs 16 Foot Dog Agility Tunnel with Sandbags
The Better Sporting Dogs Agility Tunnel with Sandbags provides you and your best friend with a great piece for practicing or beginning agility. The agility kit contains (1) 16-foot-long tunnel, and two sets of sandbags (one for each end). The dog agility tunnel & sandbags can be used indoors or outdoors, so you can train in any type of weather. It is suitable for experienced or beginner agility trainers. It also comes with a sturdy carrying case with a handle. This allows you to store, pack up, and organize seamlessly.

The benefits of agility training with your dog are endless. When you spend even 15 minutes a day with your dog practicing agility, you are spending quality time together that will strengthen your bond. Working as a team together brings your partnership to a whole new level. It is a great way for you both to get some exercise. It teaches your dog new skills. The mental challenge also makes your dog smarter. You may even find that this training and bonding strengthens their basic obedience skills. For example – you can use the opportunity to reinforce sit, down, stay AND recall – and make it fun! Before you know it, you will have a smarter, more athletic dog that is more bonded to you than ever.

Product Specifications
Material: 180T Polyester
Tunnel Size: 24" diameter x 16' long. Sandbags are capable of holding up to 15 lbs on each side.
PRODUCT INFO

16 ft long agility tunnel with 2 saddlebags – one set of saddlebags for each end of the tunnel.

The tunnel is 24" in diameter and 16' long – great for most sized dogs!

Sandbags have a wide mouth for easier filling, and convenient carrying handles.

This agility tunnel set comes with a sturdy carrying bag. When you are finished with your agility practice, it stores easily out of sight!

Sandbags help to keep your tunnel in a sturdy & fixed position! *Sand not included.