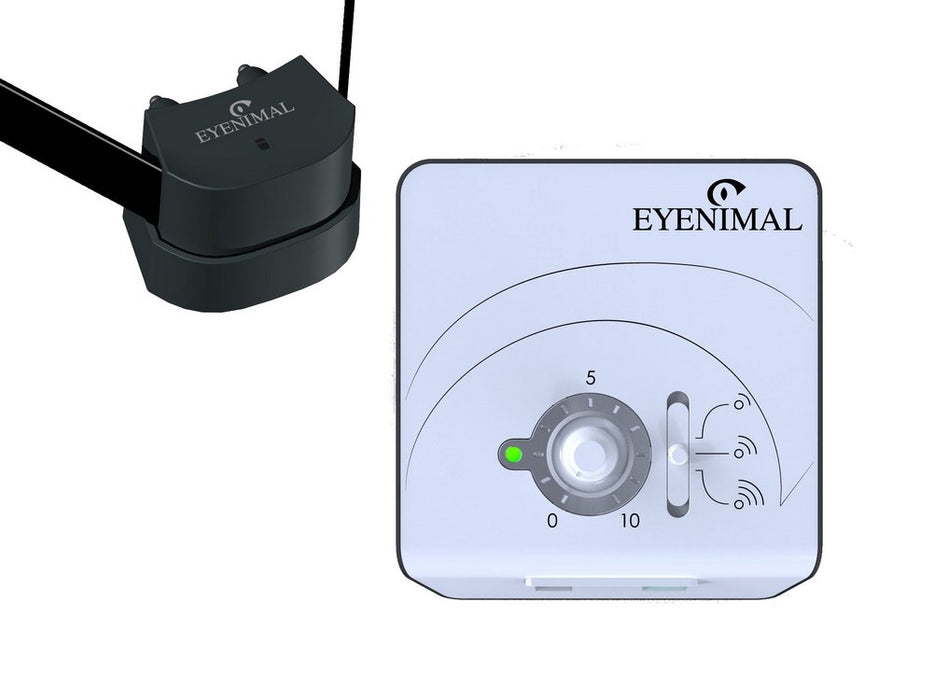 Cat & Dog Small Containment Fence
Containment system with miniature collar - perfect for cats and small dogs!
Dog containment system for small or large yards Your pets may not always know their limits. Need to protect flowerbeds or other landscaping? Want to keep your pets out of the pool? More importantly, how do you keep your pets out of the dangerous road? This system from Eyenimal is a modern and highly-effective containment tool that enables you to keep one or more dogs and/or cats within a perimeter (that you set), while still allowing them some freedom to roam. You define the allowable play area by installing a wire around the authorized perimeter. This wire can be placed on the ground (with the use of our optional sod staples), buried, or raised on an existing non-metal fence. The system will support up to 1300 feet of wire (500 feet included - additional wire available for purchase separately). When your pet is wearing a receiver collar and approaches the wire, he is warned by beep sounds. If he continues on to the area where he is not allowed, static stimulation will be emitted by the collar. The beep and stimulation continues until your pet retreats back to the allowable area. The included collar is water resistant and offers 4 stimulation levels to match your pet's sensitivity and temperament. Weighing less than an ounce, the collar is rechargeable and measures only 1.73" x 0.98" x 1.10". An unlimited number of collars can be used with one transmitter (extra collars sold separately).
Features
Contain an unlimited number of dogs or cats

4 stimulation levels

Warning Signal

Powered to support up to 1310 feet of wire

Reliable and efficient

Water resistant collar

Automatic safety shut-off

Rechargeable Collar

Collar weight: 0.81 ounce

Collar dimensions: 1.73" x 0.98" x 1.10"