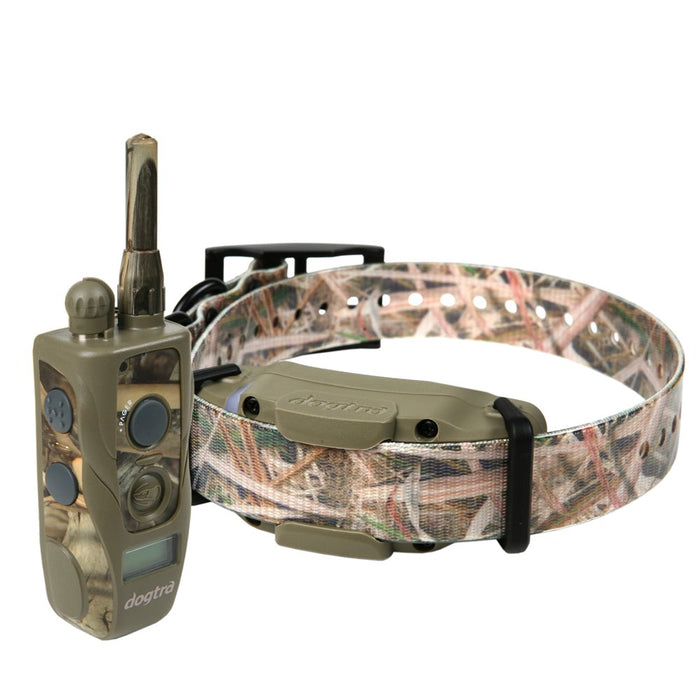 Dogtra 1900S Camo Wetlands Training Collar
Designed specifically for waterfowl hunting, the Dogtra 1900S Wetlands is a 3/4 mile range remote trainer with special camouflage coating on both the transmitter and receiver collar. 
The Dogtra 1900S Wetland guarantees superior quality, proven by IPX9K certification - the highest heat and waterproof level. 
It is a high output unit, precisely controlled by a Rheostat dial with 127 stimulation levels and paired with Enhanced Contact Points to ensure the best, consistent performance in wet surroundings.
The 1900S Wetland comes with 2-hour rapid charge batteries and a LCD on the handheld transmitter that displays the battery life and stimulation level.  It also includes a non-stimulating high-performance Pager.
Features
Slim design receiver/collar ergonomically shaped to your dog's neck
Checkered grips on the handheld transmitter
Non-Stimulating High Performance Pager
Water-Excelling Enhanced Contact Points
Rheostat (free moving) stimulation knob with levels from 0-127
3/4 mile range
'Nick' and 'Constant' stimulation
High Output
Fully waterproof (handheld transmitter and collar/receiver)
LCD screen
Belt clip
2-hour rapid charge batteries
For dogs as small as 35lbs