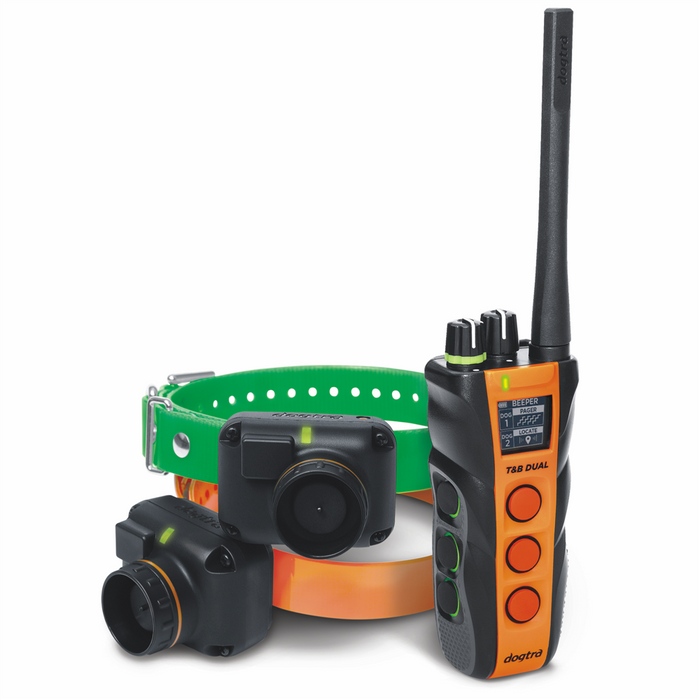 Dogtra Dual Dial Train & Beep 2-dog
2-Dog System!  The Dogtra T&B DUAL is the advanced DUAL DIAL Training & Beeper e-collar, designed for upland hunters.
The T&B DAUL is equipped with the DUAL-DIAL transmitter and boasts key features like 127 Nick/Constant stimulation levels, HPP vibration, Locate Beeper, Run/Point Beeper Modes, and a 1.5-mile range.
 
The 2-dog capable DUAL-DIAL transmitter of the T&B comes with an OLED screen and two sets of the Rheostat Dial and buttons dedicated to each collar.  This allows seamless and effective operation of both included collars without switching the stimulation levels back and forth. The receivers (2 included)  of the T&B DUAL have a unique single-body receiver/beeper horn to eliminate the bulkiness and enhance the durability.  It is equipped with the Accelerometer sensor for the most accurate motion detection of the Beeper Modes for Point-Only and Run/Point.

Features
Control 2 dogs from a single handheld transmitter
2-Hour Rapid Charge Batteries
Nick, Constant, and High Performance Pager Vibration
Beeper Modes Run & Point, Point Only, and Locate
Combination Receiver Beeper Horn
Low to High Power Stimulation
Belt Clip
Fully Waterproof
For Dogs as Small as 35 lbs.
2-Year Limited Lifetime Warranty
In the Box
DUAL DIAL Transmitter
2 Receivers w/ built-in beeper units and collar straps
Battery Charger and Splitter Cable
Test Light
Belt Clip
Owner's Manual