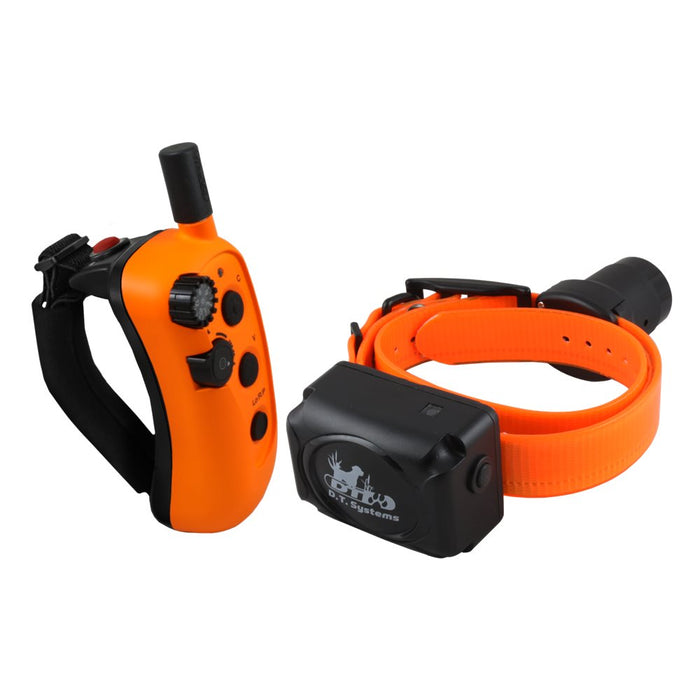 DT Systems Rapid Access Pro Trainer Beeper
The revolutionary new R.A.P.T. 1450 Upland remote dog trainer features a curved transmitter design with a strap for multiple grip positions. The unique hands-free design and RAPT Strap™ keeps the transmitter securely on the hand. This frees up the hands for other activities such as throwing retriever dummies, using a whistle, firing a shotgun, and a wide variety of other training tasks.

The Rapid Access button provides quick corrections and is programmable for all collar functions. This button is easily accessible with one finger and is located directly on top of the unit. The button can be programmed to Locate, Nick, Continuous or Vibration Assist correction functions—for one touch operation without the need to use the entire hand.

The collar is waterproof, rechargeable, and fits small to large dogs and the transmitter FLOATS on water.

Easily expandable for up to 3-dogs & includes our exclusive Vibration Assist™ Technology.

Run Point, or Point only selection will not cancel out with a manual locate function. This helps users locate their dogs without having to re-select the run point or point only feature of the beeper.

The R.A.P.T. 1450 features a unique beeping system where each dog programmed has a different beeping sequence so the user can know what each dog is doing in the field.

The R.A.P.T. 1450 is the perfect collar for upland hunters. The beeper can be heard from up to 450 yards away. Programmable up to 3 different dogs, the R.A.P.T. 1450 will handle any Upland hunting or training situation.
Features
Expandable to 2-dog or 3-dog system with R.A.P.T. Add-On collars (sold separately
1400 Yard (3/4 Mile) Range
16 intensity levels of Nick and Continuous static stimulation
Includes Vibration Assist™ Vibration Training system
MAXX-Range 360™ Internal Collar Antenna System
Extra mild Gentle Touch™ Stimulation System
Transmitter "Lockout™" feature prevents accidental stimulation
Separate beeper tone option for each dog
Beeper audible up to 400+ yards (comes with adj. Volume cap)
Rechargeable (NiMH batteries) and Completely Waterproof Collar
Waterproof FLOATING Transmitter
Transmitter uses easily replaceable 9V battery