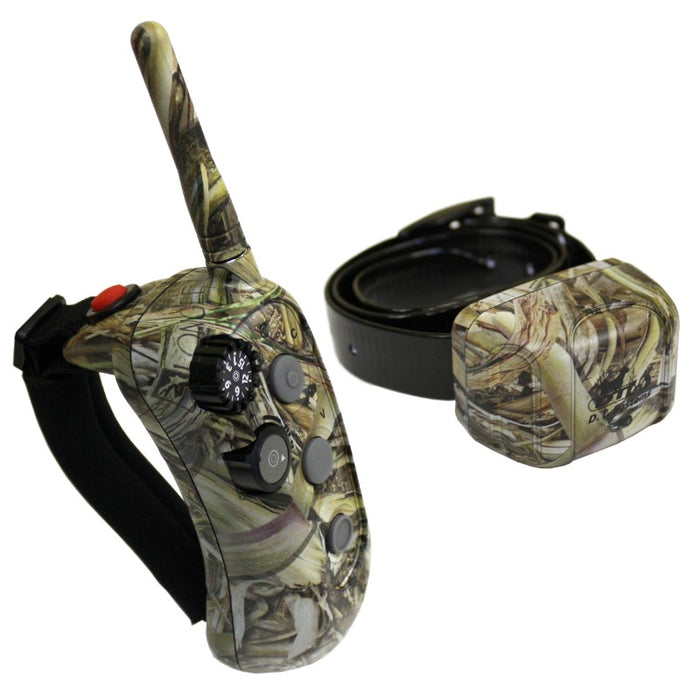 DT Systems Rapid Access Pro Trainer-Cover Up Camo
The latest in E-collar technology and ergonomic design with "hands free" transmitter - in Cover-Up Camo Pattern!!
At D.T. Systems Dogs and hunting are the passion. For 30 years passion has pushed them to develop the finest dog training products available. Enter the new R.A.P.T. Rapid Access Pro Trainer 1400 the latest in E-collar technology and ergonomic design. Through years of research, field experience, feedback from our Pro-Trainers and dog owners just like you, D.T. Systems has created a true technological advancement that will no doubt change the face of the industry and the way E-collars are used in dog training. The highlight of the system is the unique "hands-free" design of the remote transmitter - and it's designed for left or right-handed operation.
The new Patented "Rapid Access" total control button is easily accessible for instantaneous correction of your dog and our patented "Suregrip" strap securely holds the unit in place - freeing up your hands for other activities....like hunting with a gun, operating a hand-held dummy launcher, carrying decoy bags, shining a light, etc. This unit is perfect for joggers who need the convenience of keeping hands free while running. And law enforcement will love this handy transmitter design.

The compact design offers worry-free operation and the downsized collar unit means freedom of movement for your dog in the field.

Don't worry about range, as this collar boasts over a 1,400 yard reach and includes our exclusive Maxx Range 360 technology to ensure positive FM signal reception, no matter the terrain.

Also no need to worry about the weather as the R.A.P.T. 1400 e-collar boasts full waterproof capability in both the Collar and the Transmitter. As an added bonus, the Transmitter also floats just in case it ever goes overboard.

The Gentle Touch feature--with 16 levels of stimulation--adjusts with the touch of a finger and ensures you will always have the proper setting for your dog's unique personality. And our Vibration Assist lends a helping hand in the form of an audible vibration. The vibration is emitted from the collar to aid in training for a no-shock alternative stimulus.

The SmartLED on the collar unit gives you battery and charge status and this unit expands to a 3-dog system with Add-On collars (sold separately).

The New D.T. Systems R.A.P.T. 1400 collar is the result of over 30 years of experience researching, producing, and field testing the best E-collars in the business.

D.T. Systems...Dog Tested...Dog Tough...Since 1983.
Features
Cover-Up Camo Pattern
Patented, Revolutionary Curved Transmitter Design & Function
"Knuckle Grip" - On back of hand to free up both hands and have a quick,no look button
"Palm Grip" - In palm of hand holding like a stopwatch
"Pistol Grip" - More traditional hold with thumb operating most buttons and trigger finger on the top button
Transmitter is designed for left or right-handed operation
Rapid Access button programmable to be Nick (default), Continuous, or Vibrate Assist
Expandable to 3 dogs (extra collars sold separately)
1400 yard range
16 intensity levels
Nick, Continuous, Vibration Assist, and Jump Stimulations
MAXX-Range 360 Internal Antenna System
Gentle Touch Stimulation
New, compact collar unit
Waterproof collar and Waterproof FLOATING transmitter
Rechargeable NiMH collar battery
Replaceable 9V transmitter battery
SmartLED collar battery life and charge status
Transmitter "Lockout" feature to prevent accidental stimulation
Transmitter: 4-1/2" x 2-1/8" x 1" and 3.8 oz
Collar/Receiver: 2-5/8" x 2" x 1-1/2" and 4.7 oz (with strap)