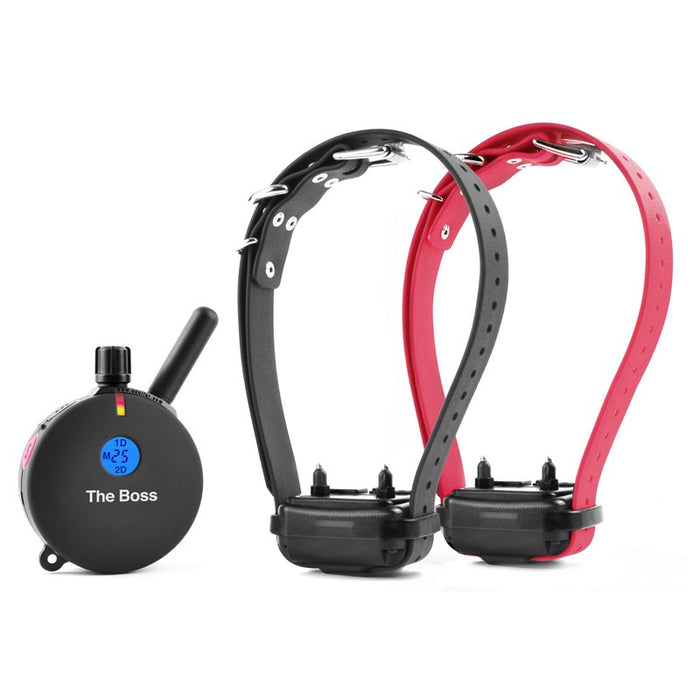 E-Collar ET-802 "The Boss" 2 Dog Remote Trainer
The ET-802 Dog Remote Trainer is the 2-dog version of the ET-800 Dog Remote Trainer. This quality dog remote trainer is a 1-mile rage that comes with a ton of amazing features that are humane and effective.
Using the "blunt stimulation," the ET-802 Dog Remote Trainer has an effect stimulation that is superior to all other remote trainers on the market. This dog trainer also comes with COS (Control of Stimulation) technology that provides clean and reliable stimulation without the traditional head jerking often found with other training collars. The user can set the level of stimulation between 1 and 100, and the adjustable boost can be set to any level between 1 and 60. Coming with many dog remote collar accessories, like the lost transmitter beeper and the night tracking light, the ET-802 Dog Remote Trainer comes with everything you need to train even the most stubborn dog.
Specifications
Weight:

 

2.45lbs
Dimensions: 11.25 × 10 × 2.45 in
Dog Temperament: Stubborn
Experience Level: Intermediate
Multi Dog Expandable: Up to 2 dogs
Range:

 

1 Mile