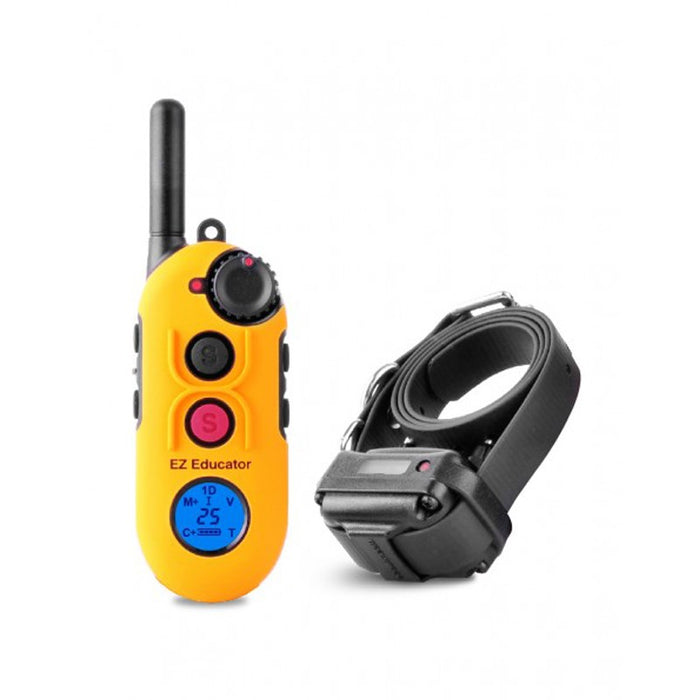 E-Collar EZ-900 Easy Educator 1/2 Mile Remote Dog Trainer
The bar-shaped transmitter on the EZ collar is especially well-suited for easy operation. Its small size allows stealth operation when the situation requires discreetness. Although the EZ 900 is small in size (2″ X1.5″ X1″ 2.4 ounces), it provides plenty of stimulation, even on 150-pound dogs.
The unique COS (control of stimulation) technology provides very clean stimulation without the normal head jerking often found with other training collars. The boost feature is available to provide boosted stimulation from 1 to 60. The tapping sensation employed is similar to vibration, but more intense making it a good substitute for the stimulation.
The transmitter controls the night tracking light, allowing the user to flash or continuously light up the collar receiver to locate the dog after dark.
This EZ collar will turn a smart stubborn dog into a genius. 100% Satisfaction Guaranteed. 
EZ-900 PC Computer Interface.zip (Download)
Compatible with Windows OS
Uses

 

Java 8 Update 211 (32-bit)
Mac OS customers have had success using

 

Parallels— to run the 900 interface tools on their Mac computers.
Specifications
Weight:

 

1.8lbs
Dimensions: 12.563 × 8.625 × 2.188 in
Dog Temperament: Normal
Experience Level: Intermediate
Multi Dog Expandable: Up to 2 dogs
Range:

 

1/2 mile