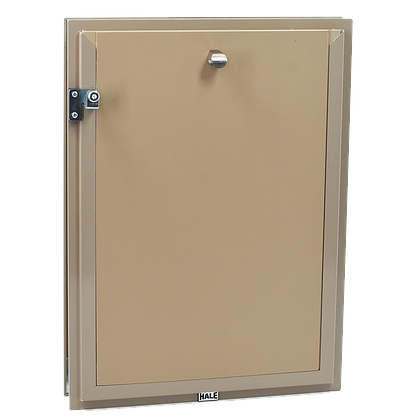 Hale Door Mounted Pet Door
Add a Hale Pet Door™ to your "people door". This is one of the best-selling dog doors and is one of the easiest to install yourself. The Door Pet Door fits perfectly in wood doors, metal doors, hollow core doors, raised panel doors, and even French doors.
Quality, energy efficiency, safety, and security are priorities with Hale Pet Door. All of the door dog doors are rated highest in insulating and sealing, ensuring protection against wind, dust, and insects.
Optional "raincap" (shown in the gallery above). First of its kind in the pet door market! Hooks to the top edge of the outside frame and helps protect against water intrusion.
NOTE: If ordering a secondary exterior security cover and raincap, you must choose a side-loading security cover so the top is available for the raincap.
NOTE: If your door is a non-standard thickness, or you would like to include any other options, you must customize. Individual options may change the price of your order.  
Give your dog or cat the freedom to come and go as they please with Hale Pet Door. These door pet doors are a perfect fit for any type of door, any size of pet, and provide the quality and expertise that you would expect from a top pet door company. The door dog doors and door cat doors are designed to be easy to install and work great in any type of door in your house.
Whether you're looking for a dog or a cat door for any door in your home, Hale Pet Door has a door model pet door that will work great for you.
Gone are the days of having to be home to let your pet outside to go to the bathroom, or trek outside in the dark or cold weather to call them back in. With a pet door, your dog or cat can come and go from your home as they please, and you don't need to be around to help them.
The door model pet doors have a variety of options to fit best for your pet and your home. We offer door dog doors and door cat doors in sizes small to giant to accommodate your furry friend of any size -- from chihuahuas to great danes. We offer other customizable options like the number of flaps on your pet door, the frame color, and many other options. 
Customize your door so it works well for your pet and blends seamlessly into the design of your home.
Door Dog Door Installation Instructions
French Door Dog Door Installation Instructions