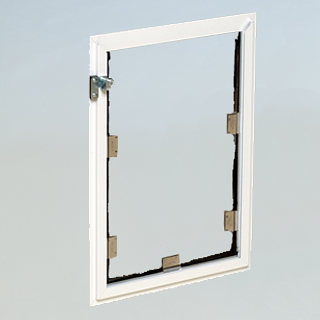 Hale Pet Door - Interior Frame Only
If you order an interior frame only, you will receive the frame used for doors, walls and double pane in glass models.  It will contain the door frame in the color of your choice as well as the cover, flap, weather stripping, and magnets, appropriate to the size of pet door ordered.  You will also need to specify the load direction for the security cover and a pin lock will be installed in the appropriate location based on the cover load.
The Interior Frame Only Pet Door can be used in many various ways such as to add a secondary exterior cover to an existing Hale Pet Door wall or door (needs modifications) model pet door or to add a pet door with a security cover to a screened in porch among others.  Because this model can be used in so many different situations, we do not provide installation instructions specific to this product as they can vary greatly depending on the situation.  An installation booklet with instructions for doors, walls, screens, etc. is enclosed with the order and can be referred to in most scenarios for installation.