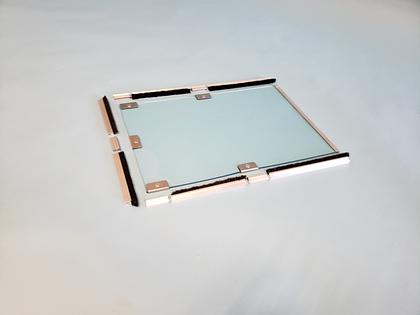 Hale Pet Door - Replacement Flap Kit
Please note: The flaps are designed for each model individually and the interior and exterior flaps are different. While they are the same size, the strikes and weather stripping are arranged in different locations to match up with the magnets in the door frame. Please make sure whether you need an interior flap, exterior flap, or both flaps before ordering. See the large graphic on the product images for an illustration of the strike placement to help determine which flap to order.
All replacement flap kits include replacement nylon weather stripping, magnets, and screws. If you do not need new magnets and weather stripping and wish to replace your flap only, please click here.
MEASURING AND INSTALLATION NOTE: As shown in the gallery photos above your replacement flap will have a metal top bar riveted to it for strength and stability.  Each flap is hand created and we cannot guarantee that these rivets will be in the exact place as your original rivets.  This does not mean you have an incorrect size of flap.  DO NOT screw through these rivets during installation as that will weaken the flap and cause it to fail.  Simply drill a new screw hole through your flap and the inside of the pet door frame in a new location near the original hole.
If you aren't sure of your Hale Pet Door size, you can measure the pet door frame.  This is the outside TIP TO TIP measurement both horizontally and vertically.  After measuring, you can find the correct size pet door using the following conversion table.  After converting your tip to tip measurement to the passage opening, choose the correct size pet door from the dropdown above. (PLEASE NOTE: Neither of these measurements is the actual flap size. We recommend measuring your pet door frame and not your old flap to confirm the size before ordering replacements.)
Replacement Flap Installation Instructions