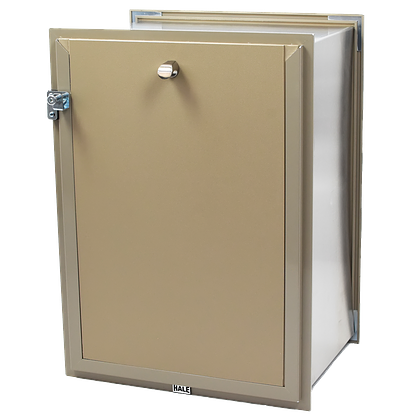 Hale Wall Mounted Pet Door
Show your puppy he's "top dog" by installing a Hale Pet Door™. The Wall Model is the most popular model. It's self-framing and self-supporting design makes it adapt to fit any opening cut into an interior or exterior wall – whether it is standard construction, stucco, block or masonry walls.
The wall model gives your pet the freedom to come and go from anywhere in your house as they please. Gone are the days of having to leave your pet outside or in a kennel while you're gone during the day. With these dog and cat doors for walls, you can have the confidence to leave your furry friend at home all day knowing they have the freedom to venture outside or stay in.
These energy efficient doors stand up to all the elements. Whether the temperature outdoors is blistering hot or biting cold, Hale's quality design and construction gives greater protection from wind and unwanted critters.
Optional "raincap". First of its kind in the pet door market! Hooks to the top edge of the outside frame and helps protect against water intrusion.  Wall model also comes standard with flashing underneath the tunnel for additional water containment and diversion.
NOTE: If ordering a secondary exterior security cover and raincap, you must choose a side loading security cover so the top is available for the raincap.
Hale's pet doors for walls come in a variety of sizes, from small to giant, to fit any sized furry friend in any stage of their growth. Install a giant wall dog door when your St. Bernard is a puppy knowing that you won't have to replace it once they've reached their full size. The various sizes offer options for different breeds as well. The small medium size is perfect for your little chihuahua, while our giant size will easily fit your great dane.
We also offer the wall models in a variety of colors to match the color of the interior and exterior of your home. You can also install the wall pet doors virtually anywhere in your home. Not all pet doors need to lead outside. 
The cat wall doors can also be installed in an interior wall in your home. Leave the door to the room with your cat's litter box closed, but still allow your cat access with an interior wall cat door. This way, the smell and mess of the litter box can be contained in one room, but your cat will still have full access to it. It also keeps other pets, like curious dogs, from getting their paws into litter boxes that don't belong to them.
Wall Pet Door Installation Instructions