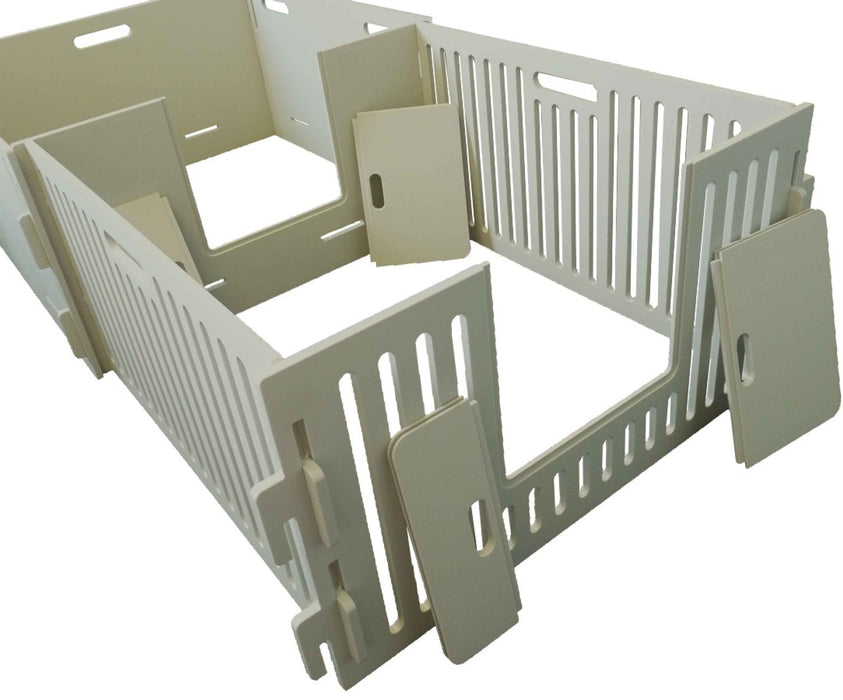 Lakeside Products MagnaPen - Whelping Box Extension Pen (Extension only)
Please note: This product is a whelping box extension piece for a MagnaBox Whelping Box. If you are looking for the whelping box only, please click here.
Lakeside Products Whelping box extension, The MagnaPen Extension pen, is the perfect addition to the MagnaBox Next Generation Professional Whelping Box for dogs.  The whelping box extension pen easily attaches to the front of the whelping box and uses the same hook and slot joints as the whelping box.  The MagnaPen incorporates the same 1/3 and 2/3 height doors for easy access and control. It is simple to clean and keep clean.  FDA approved, HDPE plastic (a common material for kitchen cutting boards) is UV resistant and will not rust, stain or discolor.  Unlike wood and other plastic whelping boxes, the MagnaPen Extension Pen has no cracks, crevices, porous or painted surfaces to retain contamination.
The MagnaPen is available in either solid sides (like the MagnaBox) for controlling drafts and easy cleanability or slatted sides to allow for airflow and visual interaction.
Quality solid materials along with unique hook and slot connectors and a lightly textured surface make cleanup a breeze.  Easily wipes clean with a rag and sanitizing solution and when disassembled can be quickly cleaned and sanitized with a power washer.  There are no plastic welds, caulk joints, hidden slots, fasteners, or corrugations that capture and retain contamination and are nearly impossible to clean and sanitize.
Assembly requires no tools and no fasteners.  No small parts to insert while aligning bulky components.  No Velcro to wear out or replace.  No adhesive or painting is required.
Simply align, insert, and slide into position the unique hook and slot joints in the corners.  Remove the puppy rails from the MagnaBox and then attach the MagnaPen to the existing slots on the front of the MagnaBox.
Available in the following six standard sizes to match the MagnaBox as well as custom sizes on request.  Choice of either solid or slatted sides.
Magnapen Extension Pen Sizing Chart
All outside dimensions are nominal.  Extension pen fits inside the dimensions noted below.
| | | |
| --- | --- | --- |
| Size | Inside Dimensions | Outside Dimensions |
| XX-Small | 19 1/4" x 21 1/4" | 24" x 24" x 12" tall |
| X-Small | 24 3/4" x 27 1/4" | 30" x 30" x 15" tall |
| Small | 30 1/4" x 32 3/4" | 36" x 36" x 18" tall  |
| Medium | 36 3/4" x 39 1/4" | 42" x 42" x 18" tall |
| Large | 42 3/4" x 45 1/4" | 48" x 48" x 20" tall |
| X-Large | 48 3/4" x 51 1/4" | 54" x 54" x 24" tall |