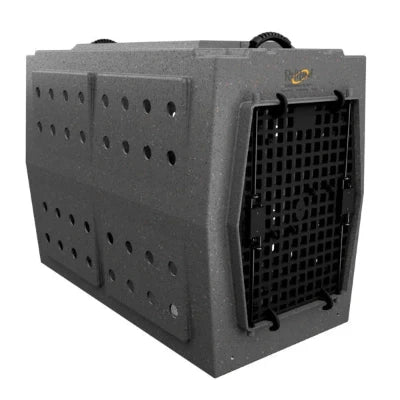 LEAD TIME: Can take up to 4 weeks for most orders.
This kennel will accommodate your larger breed of dog. Designed with straighter sides this kennel can fit through narrow doorways such as campers. Vent hole pattern displayed comes standard (1 3/8") with two finger holes in the back. All kennel sizes are outfitted with strong, composite doors that have a tighter grid pattern to prevent biting and chewing. (Keep in mind the double door versions will add 1 1/2" to the exterior dimension.)  
DIMENSIONS
EXTERIOR
INTERIOR
FLOOR
L:

 40 3/8"

L: 39

"

L:

 38 1/2"

W:

 22" at widest point

W:

 21 5/8" at widest point

W:

19"

H:

 29 7/8"

H:

 28"

Weight: Approx. 42 pounds
Ruff FLEX Technology
The walls, top and floor on Ruff Land™ Kennels also have built-in flexibility which absorbs energy that would otherwise be transferred to your dog. This is where the "stiff", two-walled plastic kennels, which claim to be safer, fail. They may not break, but when your dog hits the side of the kennel, there is no give like there is with a Ruff Land™. 
StackRight™ Design
The tops and bottoms of Ruff Land™ kennels all feature form-fit nesting that allows the kennels to fit together, making them stackable.
SureVent™ Tapered Wall Design
The sidewalls on all Ruff Land™ kennels feature a series of vent holes. These vent holes ensure proper air circulation for your dog. Ruff Land™ took this one step further by tapering the side walls so that the vent holes will never get plugged, even if you slide the kennel up against a wall or some other flat sided object.
UpSide™ Raised Floor Interior
The interior floor in a Ruff Land™ kennel is raised so that debris and liquids that fall or spill off to the side are channeled away from your dog. This UpSide™ raised floor design also creates some flex for a built-in cushioning effect for your dog as it rides in your truck.
2-Way Door
They are ambidextrous and can be adjusted to swing either way.
No Bite Grid Pattern Design
Grid pattern stops dogs from chewing/biting kennel door.
Rattle-Less
They will not rattle as much (if you've owned other kennels you know just how annoying this can be).