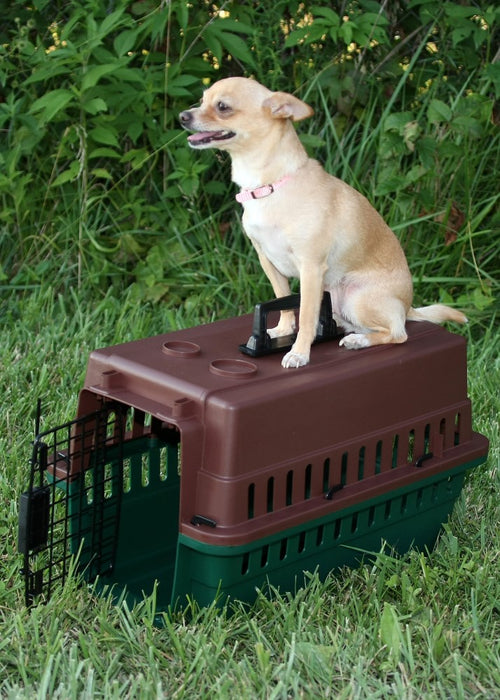 This portable kennel is perfect to transport your sporting dog - tough, durable, safe, convenient, and comfortable.
One of the roomiest portable kennels on the market, this crate is great for use around the house, in the field, or on the road. Your hunting companion will travel in true comfort and style.
Features
Dimensions - 20"L x 12"W x 12"H - perfect for puppies and very small dogs up to 12" tall. Works great for cats, kittens, or other small pets too! (also available in Junior, Intermediate, Large, and Extra Large sizes
Top carry-handle for easy portability
Hunter Green base with Chocolate Brown top
Airline-approved for most domestic and international travel - airline stickers included (Check with carrier for specific requirements)
Tough, durable construction with reinforced sidewalls and high-impact plastic offers years of reliable service
Superior flow-through ventilation on all four sides keeps your pet comfortable and safe
Easy-to-attach shell connectors are unbreakable
Wire mesh door is black-powdered to be anti-glare and corrosion-proof
Increased strength without excess weight
Easy to assemble – no tools required
Easy-squeeze safety door locks offer security, but are easy opening
Door locks are adjustable to open left or right
Taller height allows more headroom for your pet
Top and bottom can "nest" for easy storage
Optional divided food/water dish clips to crate (sold separately)
Pet friendly – no toxins in plastics, dyes, etc.
UPS-Shippable
Easy to clean
Proudly made in U.S.A.