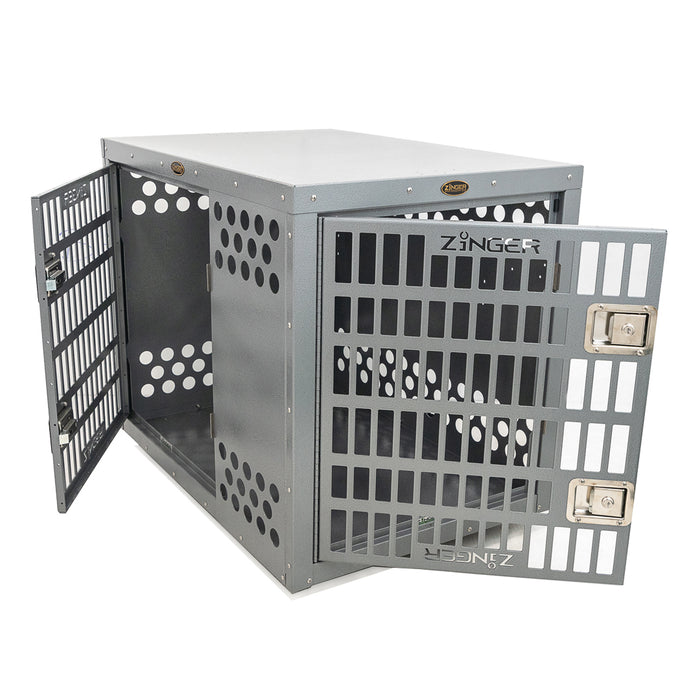 Zinger Professional Crate - Front/Side Entry
SKU
HPHQ-10-DX3000-2-FS-C
Description
As a Professional model, this crate is perfect for "Escape Artist" pets who have a knack for breaking loose from ordinary dog crates. Like all Zinger crates, the Professional series crates are constructed from aircraft grade aluminum, and, built off the base of the Deluxe, features a reinforced door with extra bars, welds, and bracing. As an added layer of security, Professional series crates also include a secondary lock on the door frame, as well as an included set of heavy duty spring loaded handles. We are so confident in our Professional Line of crates, we provide 90 Day "No escape" warranty.

This crate comes with 3 rows of ventilation holes along both the top and bottom of its non door and non barred sides.

Zinger's FS (Front and Side) entry crates feature two total doors with one on the long side and one on the short. The side door is available in either a centered or offset position. As with all Zinger doors, each door is completely reversible and can be opened from either the left or the right.
Features: 
Strong and Lightweight: Zinger aluminum dog crates offer incredible strength at one third the weight of steel, light enough for one person to life with ease. Unlike plastic and wire crates lifetime. For security reasons all ZINGER lock and mounting hardware are made from stainless steel to provide exceptional security and eliminate the risk of rust or corrosion.
 
Lockable Slam Latch: Each door comes with a flush mounted slam latch which is keyed for added security while you are away from the crate. Rest assured that someone cannot simply open the crate and walk away with your dog. Made from strong "stainless steel" for durability and to prevent corrosion.
 
Ventilation: A Zinger crate is fully vented down each side and along the back wall to provide maximum comfort for your dog. Our open design allows air to pass freely thru the door aided by the triple rows of lower and upper vent holes which surround the crate. By its very nature aluminum quickly dissipates heat making it a great material to construct dog crates provided there are enough air holes. Lots of adequate venting ensures your dog will remain safe while in its crate.
 
Modular Design: All ZINGER crates can be coupled side by side or stacked atop one another to form multiple dog crate systems or kennel banks.
 
Beautiful Finish: ZINGER crates are finished in a durable "Silver Hammertone" powder coat both inside and out. The secret to this tough finish is the high temperatures in which it is "baked on" so that it will not wear off. By powder coating the inside as well as the outside of the crate, we protect your dogs coat from discoloration, a common occurrence when a dog sits in an untreated aluminum crate. In untreated crates, the bare aluminum oxidizes and the residue rubs off onto the dog, resulting in a grey silvery color. This will not happen in a Zinger crate.
 
Solid Doors: Reinforced with solid bars and welded for extra strength the door is built to last. A full length piano hinge and striker plate is standard and the door can be easily reversed to allow left or right hand opening.
Sizing:
We recommend that when measuring you pet and choosing the appropriate size, consider adding a "Comfort" buffer between the dogs actual height and the height of your chosen crate.
The 3000 size crates are designed for smaller dog breeds (Such as Australian Shepherds, Beagles, and Collies) and stand at 21" W x 24" H x 30" L. / 37.0lbs
The 3500 size crates are designed for smaller dog breeds (Such as Shetland Sheepdog, Bulldogs, Spaniels, and Australian Cattle Dogs) and stands at 21" W x 28" H x 38" L

. / 40.0lbs

The 4000 size crates are designed for medium sized dog breeds (Such as Labradors and smaller sized Retrievers) and stand at

24" W x 28" H x 36" L. / 47.0lbs

The 4500 size crates are designed for medium-large sized dog breeds (Such as German Shepherds, Chesapeake Bay Retrievers, and your Bully breeds) and stand at

24" W x 30" H x 38" L. / 51.0lbs

The 5000 size crates are designed for medium-large sized dog breeds(Such as Boxers, Mastiffs, and Huskies) and stand at

28" W x 32" H x 40" L. / 58.0lbs